KOHLER, Wis. – January 5, 2018 – Kohler Co., a global leader in the design and innovation of kitchen and bath products, unveils KOHLER Konnect, a new platform that allows consumers to conveniently personalize their experience with KOHLER products through app presets, and automate everyday tasks in the kitchen and bath through voice-control.

Capable of supporting multiple voice services, consumers can interact with KOHLER Konnect by using voice-commands, hands-free motion control and personalized presets managed through a new KOHLER Konnect application for iOS and Android devices. Consumers can operate the kitchen faucet, control features of an intelligent toilet, adjust the lighting embedded in a bathroom mirror, run an invigorating shower, and automatically fill a bath to a desired depth and temperature all by using simple voice-commands. Powered by the trusted and global-scale Microsoft Azure cloud platform, KOHLER Konnect enables consumers to set up tailored preferences, automate everyday tasks and stay abreast of water usage of paired products. Kohler's new Moments Made Better video demonstrates consumers' interaction with the connected products.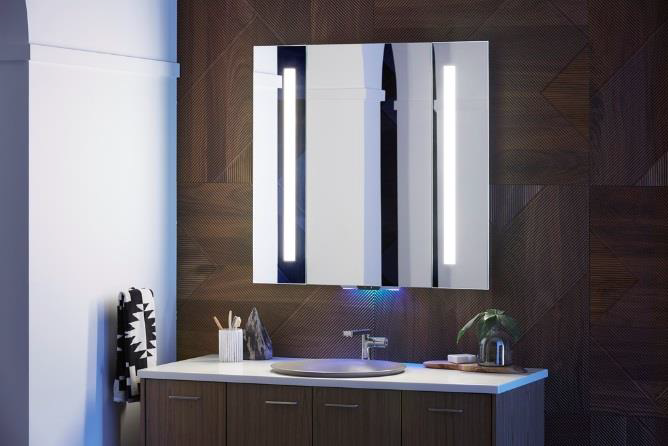 "Voice services and connected devices have become integrated into every facet of the home – with the notable exception of the bathroom, until now," said David Kohler, President and CEO of Kohler Co. "We provide thoughtful design and technologies that offer convenience and functionality to enrich your personalized experiences, making them easier, more comfortable and more enjoyable. Whether you're getting ready for work, helping your children through their evening bedtime routine or simply in need of some personal relaxation, KOHLER Konnect is the next evolution of our leading-edge kitchen and bathroom innovations that help make these everyday moments better."

To provide wider accessibility and optimal functionality to its new portfolio of products with KOHLER Konnect, the plumbing brand is offering support in select products for Amazon Alexa, Google Assistant and Apple HomeKit to bring technology into the bathroom in meaningful ways. Kohler continues to pursue relationships with other innovative industry leaders to extend the KOHLER Konnect ecosystem in the home.

Verdera Voice Lighted Mirror: An Industry First
Kohler's Verdera Voice Lighted Mirror is the first announced bathroom mirror that has Amazon Alexa built-in. Seamless construction makes Verdera Voice Lighted Mirror a highly functional and thoughtfully designed centerpiece of the smart bathroom of the future. With the ability to pair other Kohler products that utilize KOHLER Konnect directly to the Verdera Voice Lighted Mirror, users can reduce countertop clutter and streamline voice capabilities within the bathroom space.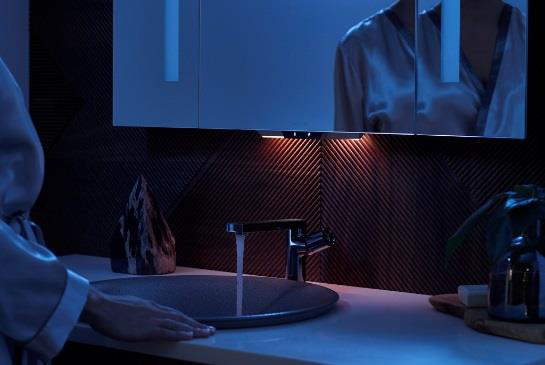 Verdera design features also include a dual-microphone solution to enhance the accuracy of voice-control, speakers housed in hermetically sealed casings to maximize stereo sound quality, a motion-activated wayfinding nightlight for safety and convenience, and highly efficient LED lights for makeup application, grooming and skin care. In addition to controlling products with KOHLER Konnect and its related personalized experiences, Verdera Voice Lighted Mirror offers customers access to tens of thousands of Alexa skills. Verdera Voice Lighted Mirror improves the comfort and functionality of time spent in the bathroom by enabling it to be hands-free, seamless, and more convenient, while also communicating with other connected products in your Wi-Fi network.

In addition to showcasing Verdera Voice Lighted Mirror, Kohler is making its debut at the Consumer Electronics Show (CES) with a collection of smart home kitchen and bath products:

Sensate kitchen faucet with KOHLER Konnect: The Sensate kitchen faucet with KOHLER Konnect allows you to turn the water on and off or dispense water to a measured volume with simple voice-commands or touchless motion-based interactions. Consumers can fill an eight-ounce cup of water or a large pot with hands-free voice control.

DTV+ showering system with KOHLER Konnect: Many aspects of DTV+ can be controlled with voice-commands through KOHLER Konnect to produce a customized showering experience. Users can adjust water temperature, control showerheads and body sprays, music, lighting, steam and shower duration with voice commands, the DTV+ interface or directly on their mobile device with the KOHLER Konnect app. Consumers who already have DTV+ systems in their home can upgrade by having a bridge module installed to their existing system.

PerfectFill kit with KOHLER Konnect: PerfectFill kit can automatically fill a bath at precisely the desired depth and temperature, reducing time spent physically monitoring the filling of the bath water. Both the auto-fill and auto-drain functionalities can be controlled with simple voice-commands or through the KOHLER Konnect app.

Numi intelligent toilet with KOHLER Konnect: Kohler's most advanced toilet, the Numi offers personalized settings that let users fine-tune every aspect of their experience to their exact preferences, from ambient colored lighting to wireless Bluetooth®* music sync capability to the heated seat and foot warmer. Numi delivers hands-free control, personalized cleansing functionality, and exceptional water efficiency. Features of Numi with KOHLER Konnect can be controlled through voice-command, motion control or the KOHLER Konnect app.

PureWarmth toilet seat with KOHLER Konnect: The new PureWarmth heated toilet seat offers a slim design and integrated nightlight to enhance the user's experience with any toilet. The KOHLER Konnect app offers users control over the temperature, timing of the heat as well as duration, and lighting with the ability to program and set all features to the user's preference. Touchless Response toilet with KOHLER Konnect: Kohler's newest Touchless flush technology features a standard trip lever with a motion sensor embedded to provide users the convenience of touchless flushing to minimize the spread of germs. The flush proximity sensor and integral nightlight can also be activated through the KOHLER Konnect app.

The Amazon Alexa-enabled Verdera Voice mirror from Kohler will be available for purchase in March 2018. Connected versions of the other CES demonstration models will launch later this year. For more details, visit www.kohler.com/kohlerkonnect.

About Kohler Co.
Founded in 1873 and headquartered in Kohler, Wisconsin, Kohler Co. is one of America's oldest and largest privately held companies comprised of nearly 35,000 associates. With more than 50 manufacturing locations worldwide, Kohler is a global leader in the manufacture of kitchen and bath products; engines and power systems; and premier cabinetry and tile; and is owner/operator of two of the world's finest five-star hospitality and golf resort destinations in Kohler, Wisconsin, and St. Andrews, Scotland.

As homes become increasingly connected, Kohler is focused on making everyday moments better through thoughtful design and smart technology. Kohler approaches smart bathroom design with the same dedication, precision, and care that has built the brand's global presence for well over a century.

Follow us on:
www.kohler.design/design-forum/
Contacts:
Teen Renda
Marketing Communication Specialist
t. +65 6577 1844
e. renda.teen@kohler.com